Well i received some lovely dominoes over the weekend from a forum swap on Aunty's, I received my fabulous Dominoes from Ali.

And i wanted to display them with the rest, But one small problem - Have not got any of the chipboard boxes, never do i have any box frames or anything else i can use...

So looking around pulling bits out here and there i finally came across my Jenga pieces ( i brought it a while back for the tin! - Honest sir! )

Well this is what they looked like before hand...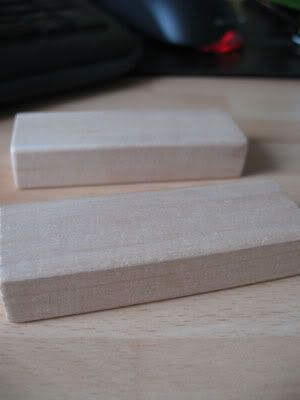 and this is what they looked like after ......




Sorry pictures not too great acetate doesn't like being photographed well it tends to go funny and distorts everything even though its crystal clear to look at in real .

The supplies i used to make this was, 6 Jenga wooden blocks , Acetate , 8 Nails, Ribbon , Backing paper & Board and also Black , Copper Reeves Acrylic paints.