I hope you enjoy the new look blog and have fun taking part in this challenge blog,
and if like me i hope you able to free up a bit of time now the challenges are combined

This week i am, as in me Donna (
Crafty Krafts
)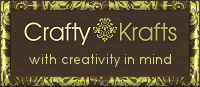 Is Giving away £20 worth of goodies from my store, of your own choice!
Which includes your p
ostage
(excludes Sarah Kay Stamps)
www.CraftyKrafts.co.uk

To be in for a chance to win the above prize you must leave your comment linking to your work
(See FAQ's on how to do this)
By no later than Saturday 8th Nov 10pm (UK Time)
Winner will be Announced on Sunday 9th Nov

Now for the challenge..........
*Week 1* Sketch it!
Our First Sketch of this Blog was Done by our very on JayJay
Below you will see a Sketch,
Please make your work using the sketch as a guide,
You can Rotate the sketch & Even resize the Elements if you would like,
But do not move the elements around!
As long as we can still see the original sketch layout and it can be easily recognised then that is fine!
Please Remember your work must contain one of the stamps that can be found on this list
Here!
Don't forget to go check out the blog and all the other Designers, They done super work!
Some have even used the New Sarah kay stamps that aren't even released to the public yet! ( lucky devils!)
Recipe i have used,
Stamps:
Magnolia

Ink/Colour: Faber-Castell Polycromos
Paper: Basic Grey &
DCWV Winter Wishes

Cardstock: Stampin' Up Whisper White
Ribbon: From Stash
Accessories:
Dovecraft Brads
, Paper Flowers,
Cosmo Cricket Christmas Rub-on